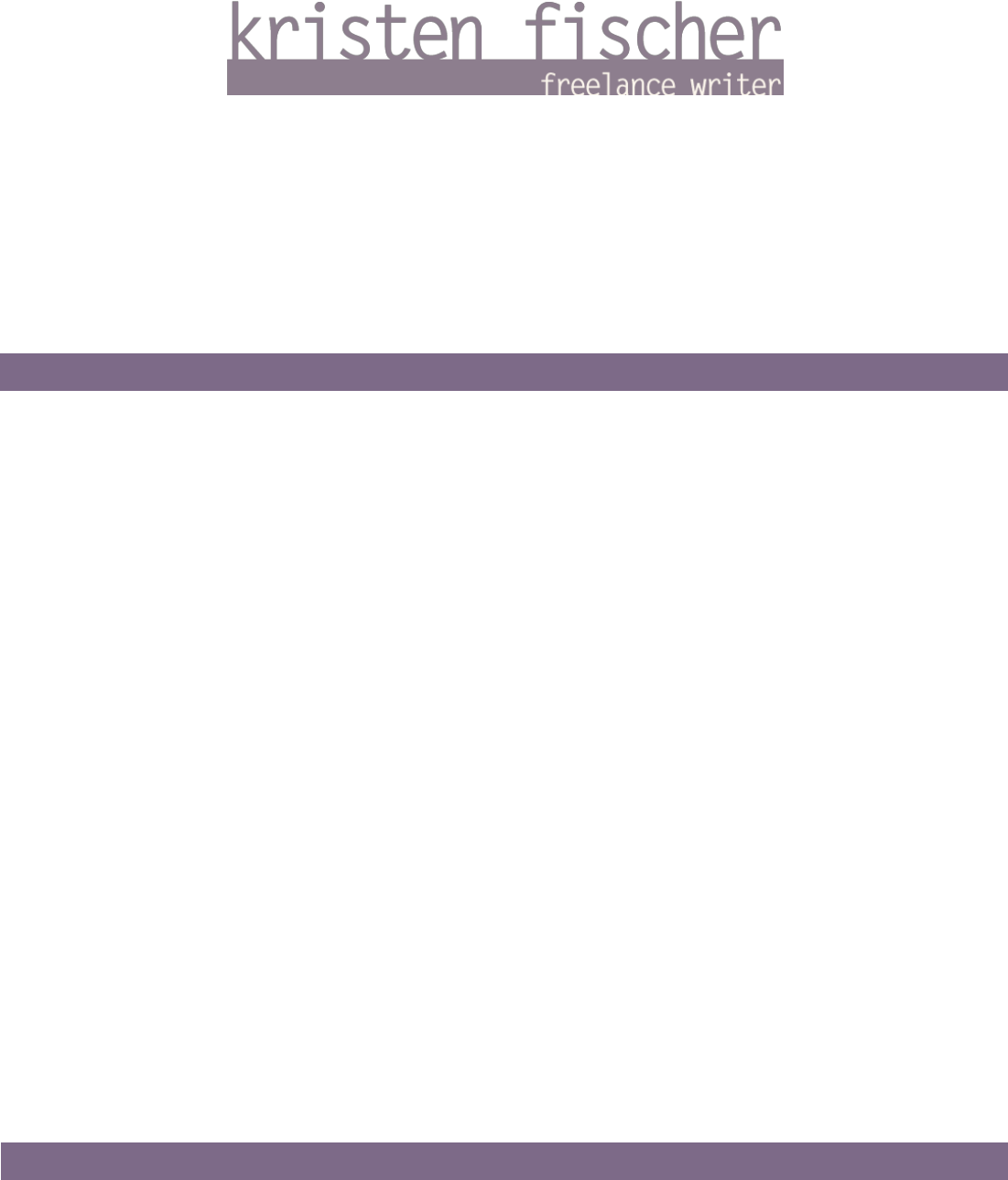 3905 Herbertsville Road • Point Pleasant, NJ 08742
•
732.746.3721 • kristen@kristenfischer.com • www.kristenfischer.com
C
OPYWRITER
|
J

OURNALIST

|A

UTHOR
Content Strategy • Co
p
ywriting • Editing
Energetic copywriter generating sales-boosting marketing collateral that enhances organizational image and cultivates
sales
.
Articulate
leader collaborating
with
clients
to
devise
brochures,
website
content,
blog
posts,
email
campaigns,
product
descriptions,
and
newsletters
.
Self-motivated
journalist
conducting
interviews
and
research
to
generate
engaging articles. Detail-oriented wordsmith
wi
th exceptional
co
mmand of the English language; familiar with
AP
, A
MA
and Chicago styles. Knowledgeable in Microsoft Office, Adobe, Basecamp, Apollo, WordPress, and other CMS platforms.
Copywriter, Journalist, Author
KRISTEN FISCHER, Point Pleasant,
NJ
•
2005 to Present
Partner with clients to identif
y
content and marketing campaign objectives; originate appealing content for brochures,
press
releases,
website content,
blog
articles,
e-commerce,
newsletters,
social
media,
and
other
marketing
collateral
.
Interface with clients using
content management systems. Secure and prepare graphics to accompany text; craft
SEO
tags to promote content online. Promote books including
When Talent Isn't Enough: Business Basics for the Creatively

Created collateral for Rutgers University, Grainger, Waterford-Wedgewood, Georgian Court University, Provide
Commerce, Trane, AtlantiCare, Marriott, Hilton, PetSafe, American Law Institute, Temple University,
Hyundai,

Summarized

industry

news

for

SmartBrief

clients

including

the

Airline

Passenger

Experience

Association,
American Cleaning Institute, Luxury Hoteliers, and American Association of Airport Executives briefs
.

Substantively edited articles for overhaul of About.com content into lifestyle channels including The Spruce.

Published

articles

in

Prevention

,

Woman's

Day,

Prevention,

Health,

Healthline,

Parade,

New

Jersey

Monthly,
Writer's Digest,
Costco Connection, The Writer, SheKnows, Spirituality & Health, HealthDay, FitPregnancy, Parents,
BELLA NYC
, HOW Design, MediaBistro, Home Business,

and

Home Energy

.
MEDIA LIFE MAGAZINE, Alexandria,
VA
•
2005 to 2006
|
ASBURY PARK PRESS, Neptune,
NJ
•
2004-2005
Conducted substantive editing on daily news stories. Gathered and edited content from Associated Press wire; devised
headlines and photo captions. Collaborated with editors to produce stories and in-depth feature articles.

Traveled to Gannett warehouse to proofread newspaper pages as they arrived off the press.
Communications Consultant
MERIDIAN ENVIRONMENTAL SERVICES, Toms River,
NJ
•
2002 to 2004
Spearheaded company communications. Drafted technical documentation including Phase I reports.

Successfully obtained state grants to finance environmental cleanups.
News Reporter / Journalist
OCEAN COUNTY OBSERVER, Toms River, NJ
•
2001 to 2002
|
COAST STAR, Manasquan, NJ
•
2000 to 2001
Interacted with state/local officials and organizations to provide comprehensive coverage of 2nd largest municipality in
New Jersey at the
Ocean County Observer, and for two municipal beats at The Coast Star.

Selected to write weekly "School Scene" column for the Ocean County Observer

.
E
DUCATION AND
C
REDENTIALS
Bachelor of Arts •
RICHARD

S

TOCKTON

C

OLLEGE OF

N

EW

J

ERSEY

, Pomona, New Jersey
American Society of Journalists and Authors, Member
Certified Professional Resume Writer (CPRW)
Society of Children's Book Writers and Illustrators, Member