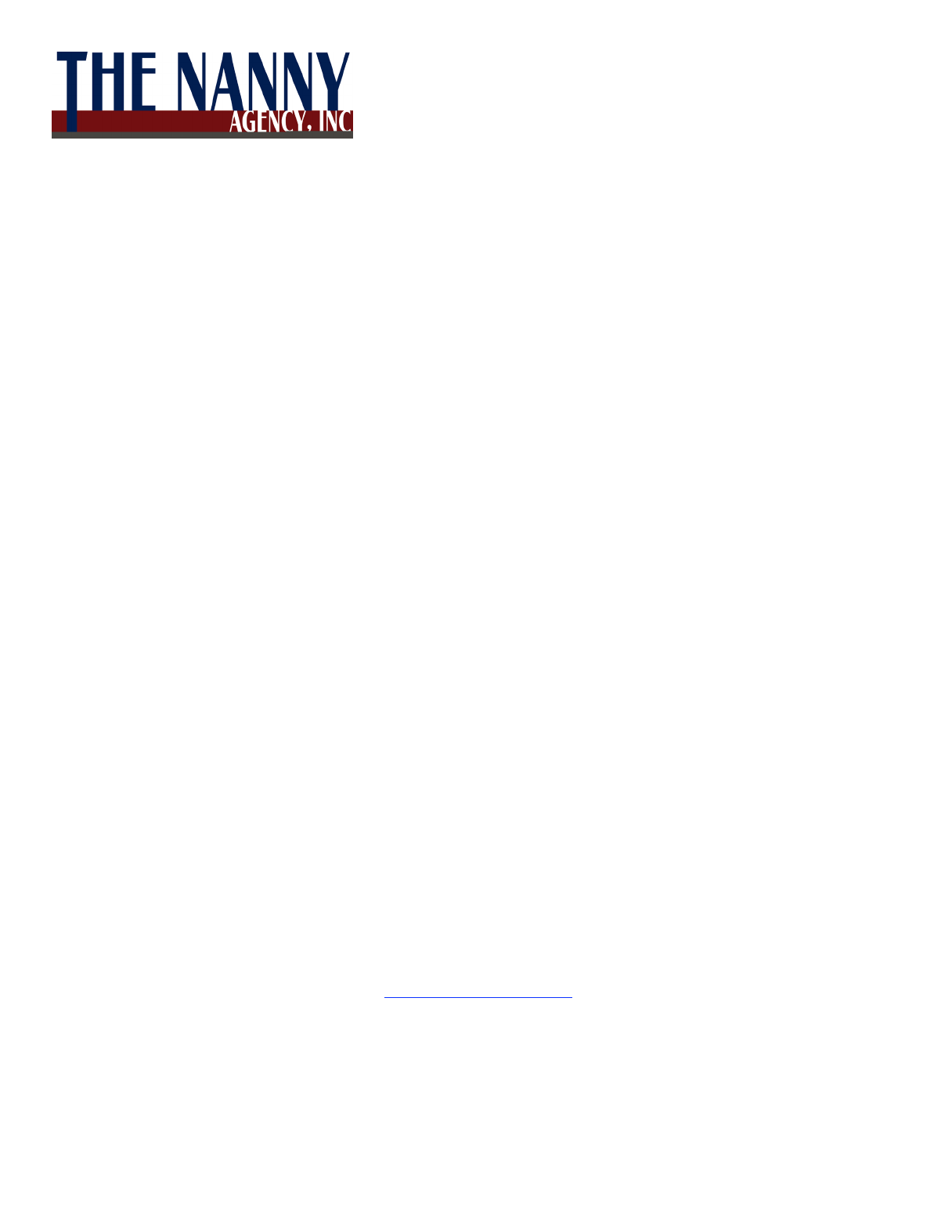 TEMPORARY NANNY AGREEMENT
This agreement is entered into _______ day of _______, 20____by and between THE NANNY
AGENCY, INC. (TNA) and ________________________________________________(Client).
TNA and the Client agree as follows:
1.
TNA will provide a temporary nanny on the following dates: ________________________.
You may leave the dates blank if you are planning on using the agency on an on-going basis.
2.
The agency fee for a temporary nanny is $20/day, or $300/month for unlimited
sittings. The agency fee will be charged on the credit card provided on the day of the
sitting. The nanny will be paid directly by Client and there is a 4 hour minimum.) For
overnight care, the nanny will charge a minimum of $125/night. For 24-hour care, the
nanny charges a minimum of $200/day. The newborn care and sleep training specialists
charge a minimum of $20/hour and are available for consulting as well.
3.
If the temporary nanny drives the children anywhere in her car, the Client agrees to
reimburse her at the rate of a minimum of $.50/mile.
4.
Any additional reimbursements must be given to the nanny prior to the end of the job.
5.
If the Client leaves the city and/or requires the nanny to stay overnight, the Client agrees
to leave the nanny a minimum of $25/day in cash for each day the Client is gone. It is
understood and agreed to that this money will cover miscellaneous expenses. (i.e. school
lunches, meals out, movie, etc.) In addition, the nanny will provide the Client with receipts
for the money spent and will return any remaining cash to the Client.
6.
If the Client cancels the temporary nanny with at least 24 hours notice, TNA will refund
the Client 100% of the amount stated in Item 2. If the Client cancels with less than 24
hours advance notice, TNA will refund the Client 75% of the amount listed in Item 2.
7.
The Client agrees to refrain from making any private agreements with the temporary
nanny
(such as trying to hire her without going through TNA), or from taking any action
which is inconsistent with this agreement or which has the effect of avoiding any of the
Client's obligations thereunder. Such private agreements and actions include, but are not
limited to,, actions which would enable the Client or any other person to avoid payment of
any fees due TNA. If Client does decide to hire the temporary on a permanent basis, Client
agrees to pay the normal permanent placement fee of 10% of the nanny's annual salary.
Client will also need to fill out permanent paperwork. Client agrees TNA to charge the
placement fee to the credit card number on file with TNA.
12202 Pagewynne Drive, Frisco, TX 75035
972-713-7773
www.thenannyagencyinc.com