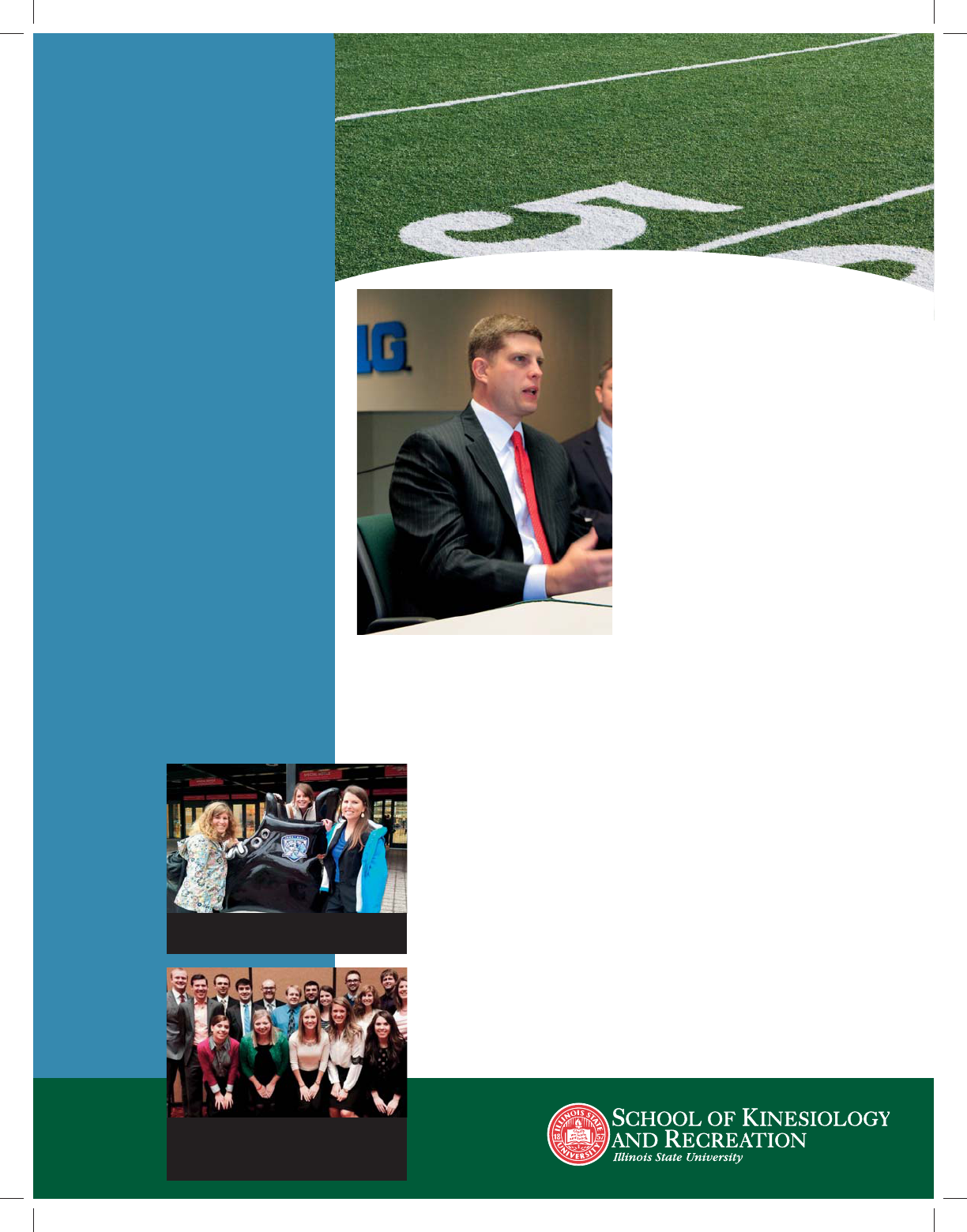 1
continued on page 2
The annual sport managment symposium attracted
big name sports' professionals from across the
Midwest. First and second-year sport management
students had the opportunity to network.
1
2
3
4
6
7
8
9
In this issue
Farewell to Nels Popp
Clint Warren Joins Faculty
Tracking the Redbirds—
alumni update: Bryan
Nystrom, Where are they?
Sport Management updates
Mooney attends Mount Union
Sales Workshop
Redbirds travel to Indy for
sport business 
eld trip
Fourth-Annual Uncle Bill's Self
Storage Miracle League of
Central Illinois Golf Outing
ISU Sport Management
Symposium attracts big
names, many students
Popp leaves ISU to
take position at UNC-
Chapel Hill
kinrec.IllinoisState.edu/graduate/sport_management • Spring 2015
kinrec.IllinoisState.edu/graduate/sport_management • Spring 2015
News from the
Sidelines
Newsletter
of Sport
Management
at Illinois State
University
In January of 2014, Nels Popp left his post as
sequence coordinator for the sport management
program at Illinois State to become assistant
professor of sport administration at the University
of North Carolina-Chapel Hill. Nels spent the
previous five years helping to bring the ISU sport
management program to new heights by building
relationships with regional sports
executives, helping students connect
and network within the industry, and
initiating community efforts like the
Miracle League golf outing fundraiser.
Several former ISU sport
management students reflected on
their time with Nels upon hearing of
his departure. "The biggest impact Nels
made for my class and the class below
me was that he genuinely cared about
all of us and our career development.
When we were in the program, Nels
never made it seem like he was focused
on us getting a degree and getting
out the door. He helped everyone,
myself included, immensely in catering
his teaching and his advice to your
career specifically. He was a great teacher, but more
importantly, I could drop by his office and talk for
an hour about anything that came up and really
enjoy it. I wouldn't be where I am without Nels and
I'm very fortunate I chose ISU and that I am able to
stay in touch with him still today", said Sean Johnson
'13, current director of annual giving at Illinois State
University Athletics.
"I really enjoyed my time as one of Nels Popp's
students here in the Sport Management Program.
From the very beginning, Nels was very enthusiastic
and approachable and made my transition to ISU an
easy one. Through his knowledge in the classroom
and vast connections throughout the sports world, I
was able to take valuable steps forward in my young
career in the sports industry. The Sport Management
Program here at Illinois State is one of the best in
the country, and Dr. Popp is a big reason for that",
said Andrew Evans '15, current graduate marketing
assistant for Illinois State University Athletics.
A Note from Nels:
My experience at ISU was absolutely wonderful
and I am very proud of all that was accomplished
within the sport management program during my
time in Normal. By far the best memories for me are
connecting with so many incredible students
who are now doing some great things throughout
the sport industry. When I reflect on all the success
past students have had and are still having, it is
very rewarding. I also am extremely proud of all the
initiatives we were able to develop at ISU over my
time there; things like class trips, the symposium,
the Miracle League Golf Outing, even the newsletter.
I am glad to see those traditions are continuing and
I really enjoying knowing that I was able to play a
small role in continuing to advance the program."
I know Illinois State will continue to attract some
of the best masters students in the country because
of the great program and people in place there,
as well as the terrific relationship the program has
Sport Managment students had the opportunity to
visit Indianapolis and tour Banker's Life Fieldhouse.
KNR Sports Newsletter UPDATE.indd 1
KNR Sports Newsletter UPDATE.indd 1

1/26/2015 11:22:54 AM

1/26/2015 11:22:54 AM