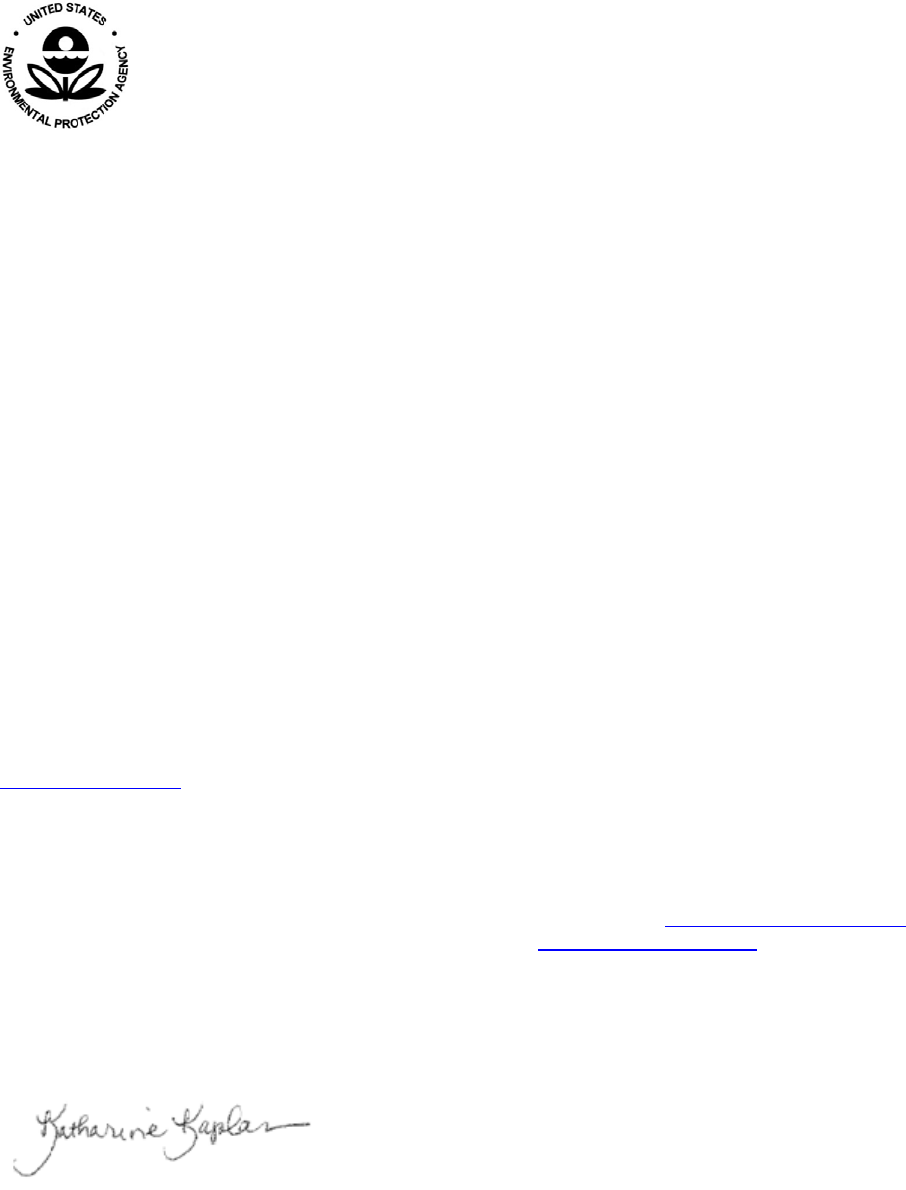 UNITED STATES ENVIRONMENTAL PROTECTION AGENCY
WASHINGTON, D.C. 20460
April 5, 2010
Dear [Contact Name],
Consistent with the letters dated January 4, Febr
uary 5, March 5, and March 22, 2010 sent to you
concerning the submittal of unit shipment data (USD) by
[Partner Name], the purpose of this letter is to
notify you that the U.S. Environmental Protection
Agency (EPA) has terminat

ed your company's ENERGY
STAR
®
partnership for failure to fu
lfill your partner commitments.
As stated in the ENERGY STAR Pa
rtnership Agreement your company signed with

EPA, USD or other
market indicators must be provid
ed to EPA on an annual basis to help

determine the market penetration
of ENERGY STAR qualified products. The Partner Co
mmitments state partners mu

st submit USD no later
than March each year.
The March 31, 2010 submission deadline for 2009 has
passed and EPA has not received your company's
USD submittal for [Product Type]
despite repeated attempts to reac

h the primary contact(s) your
company has indicated to EPA.
Unfortunately, since your USD ha
s not been received, and consistent with the process described in all
previous communications on this topic,
this letter serves as notification that EPA has terminated your
company's ENERGY STAR partnership for [Product Type]. This termination is due to your failure
to honor your partner commitments, a
nd will be effective immediately.
As part of this termination, a
ll of your [Product Type] models submitted to EPA as ENERGY STAR
qualified have been removed from the qualified prod
ucts list on the ENERGY STAR Web site at
www.energystar.gov
. Your company name has also been remove
d from the partner list. Please note that
you must immediately cease using the ENERGY STAR na
me and mark in association with [Partner
Name]'s [Product Type] models
.
Should you wish to rejoin ENERGY STAR in the future
, you must first submit the required unit shipment
data for calendar year 2009 and complete the paperwor
k to join ENERGY STAR again. If you require
additional copies of the 2009 USD forms, please send an email to
unitshipmentdata@icfi.com
or
download the forms from the ENERGY STAR Web site at:
www.energystar.gov/usd
. If you do not have
email access and would like to request the forms,
have additional questions about the USD requirement,
or believe you have received this letter in error, plea
se call Joshua Forgotson, ICF International, at (202)
862-2955.
Sincerely,
Katharine Kaplan, Acting Branch Chief
ENERGY STAR Product Labeling