Chinese New Year 2018, Year of the Dog
Carl Sutton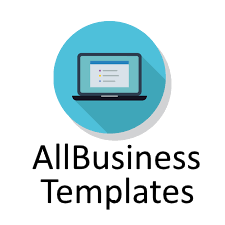 1/18/2018 7:02:16 AM
2/19/2018 8:45:09 AM
Do you need a Chinese Year of the Dog template? Check out our selection of free business templates that are related to the Chinese zodiac animal Dog now!

In 2018 the Year of Dog is the celebration of Chinese Happy New Year on February 16th, 2018. Other animals involved in Chinese New Year are Dragon, Rat, Ox, Tiger, Rabbit, Horse, Sheep, Monkey, Rooster, Pig.
Chinese New Year (or "Spring Festival" in modern Mainland China) is China's most important traditional festival and is celebrated at the turn of the traditional lunisolar Chinese calendar, which consists of both Gregorian and lunar-solar calendar systems. In general, Chinese New Year starts anytime between the end of January and mid-February.

When is Chinese New Year in 2018?


Chinese New Year, also known as Spring Festival in China, which is the most important traditional holiday in China. In 2018, Chinese New Year will start on Friday, the 16th of February 2018 (16/2/2018). This year's animal zodiac sign is the Dog from 2018-02-16 to 2019-02-15. According to the Chinese Zodiac, which is a cycle of 12 different animals, the Chinese year beginning in 2018 is the year of the Dog. So, considering each Chinese zodiac year begins on Chinese New Year's Day, all children that are born on or after February 16th, 2018 are Dog.
Dog is the eleventh in the 12-year cycle of Chinese zodiac sign. The Years of the Dog include 1922, 1934, 1946, 1958, 1970, 1982, 1994, 2006, 2018, 2030, 2042 and so on. Dog years are believed to be the most unlucky for people born in previous years of the Dog. China's Spring Festival public holiday starts on the Chinese New Year and lasts for 7 days.
People born in the Year of the Dog are usually independent, sincere, loyal and decisive according to Chinese zodiac analysis. They are not afraid of difficulties in daily life. These shining characteristics make them have a harmonious relationship with people around them.
Core Strengths Dog:


valiant
clever
loyal
responsible
clever
courageous
lively

The Dog is man's best friend who can understand the human's spirit and obey its master, whether he is wealthy or not. The Chinese regard it as an auspicious animal. If a dog happens to come to a house, it symbolizes the coming of fortune. The invincible God Erlang in Chinese legend used a loyal wolfhound to help him capture monsters.

We provide free Chinse new year templates that provide insight into all the previous and future Chinese New Years to come. These templates are suitable for a wide variety of applications.
The Most Important Dates of Chinese New Year


Chinese New Year's Eve: the day of family reunions

Chinese Calendar: 除夕 Chúxī /choo-sshee or 'getting-rid-of evening'

Chinese New Year's Day: the day of (close) family visits and New Year greetings

Chinese Calendar: 初一 Chūyī or choo-ee or 'first 1'


These Chinese New Year templates are all blank, printable and macro-free and easy to edit. After modification, you can save these Chinese New Year templates according to your needs. Using our special Chinese New Year Presentation templates guarantees you will save time and efforts!
Check out and download these free Chinese New Year, Year of the Dog templates now!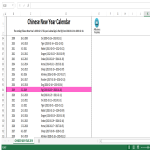 Download this printable Chinese New Year overview from 1930 to 2019 and find out when Chinese New Year is held in what year. In 2019 its year of the Pig.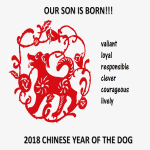 What characteristics have boys that are born in the year of the dog? Download this poster about Chinese zodiac animal Dog now!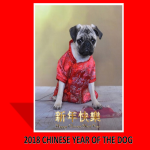 Are you born in the Chinese year of the dog? Download this free poster about Chinese zodiac animal dog and the persons' characteristics now!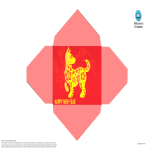 Do you need a Chinese Year of the Dog lucky money printable hongbao envelope template? Download this free printable lucky money envelope with Dog theme now.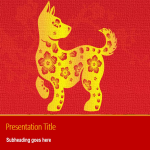 Do you need a Chinese Year of the Dog Powerpoint presentation template? Download this free Powerpoint template with Chinese zodiac animal Dog theme now!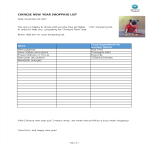 What do people buy for Chinese New Year? Download this Chinese New Year shopping list now!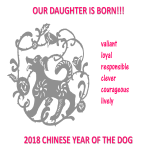 Your daughter (will be) born in the year of the dog? Download this poster about Chinese zodiac animal Dog and the girls' characteristics now!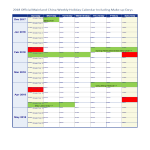 2018 Official China Holiday Calendar Including Make up Days and week numbers in Excel format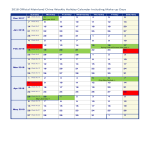 When is Chinese new year in 2018? And what are the Official Mainland China Weekly Holidays including Makeup Days? Download this China New Year Calendar now!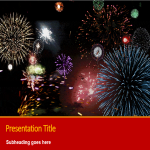 Looking for an Animated Fireworks Powerpoint presentation for Chinese New Year 2018? Download this Animated Fireworks PPT presentation Chinese New Year now!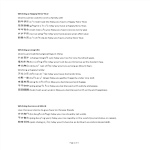 How to create a Happy New Year Chinese Message? How to wish Chinese New Year in Chinese? Download these Happy New Year Chinese Messages template now!