Crossword Puzzles with Answers
Miriam Horton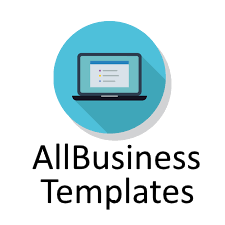 7/5/2018 11:56:59 AM
12/22/2021 3:53:50 PM
What is the hardest free printable Cross Word or Word search puzzle? How smart are you? Might you be a genius, too?
Check out our collection of good old-fashioned printable crossword puzzles and other word games, that can be easily downloaded and played whenever you have time. Especially during the holidays, word games are hours of fun guaranteed...
Types of printable crosswords

Often, when people hear the term crossword, what generally comes to mind is a square-shaped ground divided into smaller squares, arranged vertically and horizontally, that stand for letters, with the first of each word being numbered. The clues to each word are given within the puzzle.
alpha-cross: The first letter of each word is written next to the clue that pertains to it, in alphabetical order, and one is already placed on the grid.
arrows: Each square with a clue is colored, and an accompanying arrow indicates whether the answer goes across or down.
code words: A random number from 1 to 26 is used to represent each letter of the alphabet, and each letter is used at least once. A certain number of letters may already be in place.
criss-cross: Each answer intersects with one and only one other answer, and one, if any, box per word is highlighted; together the highlighted letters form another word.
cross-wise: No numbers are given, so the player must use his or her powers of deduction to solve the clues, which describe words with a given number of letters in either orientation, e. g. "One of the two horizontal seven-letter words is part of a bird's wing and the other is the stomach."
diagramless: The diagram is not given. Instead, the row and column at which the first clue begins are indicated.
word search: This is really different from a crossword puzzle because the words are already there, but they are surrounded by other letters that are not a part of them and the player has to locate them.
grid jigs: These start with a blank grid and a set of sub-grids, each with some letters and blank spaces on it. The object of this type of game is to put the pieces back together by filling in all the letters and blank spaces in their correct spaces in the grid.
The puzzle does not always take the form of a square grid. It may take on any number of other shapes, including an octagon with the sides resembling staircases, a diamond shape or a triangle. There are a number of variations on this theme featured, listed below: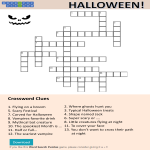 How to make a Halloween Crossword Word Puzzle? This spooky but nice free printable Halloween Crossword has ways to grab your player's attention. Download it now.
Educational topic Crosswords: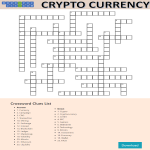 How do I start with Cryptocurrency? A funny way to get acquainted with the terminology is by downloading this smart crypto word puzzle! And it will also show yo
Crossword Puzzles with Answers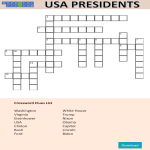 Looking for a USA Presidents Day Crossword Puzzle? Download this Presidents Day Crossword Puzzle template and play it directly!
Crosswords solver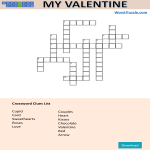 Looking for a Crossword Game to play on Valentine's Day with your lover? Download this Valentines Day Crossword Puzzle template and play it directly!
Holiday Crossword game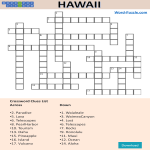 Looking for a Crossword Puzzle to prepare for your holiday to Hawaii? Download this Hawaii Crossword Puzzle template and play it directly!
Printable crosswords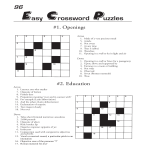 How to create a crossword Puzzles? Download this Printable crossword Puzzles template now!
Crosswords for kids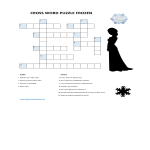 Looking for a Frozen Crossword? Check out this Cross Word Puzzle with all your friends from Arrendale. Download this Disney Frozen Crossword template and play it directly!
Word Search Puzzle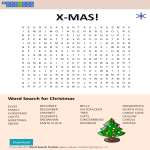 What is the hardest free printable Christmas word search? Try this challenging Christmas Word Search puzzle now. Download this printable Christmas Word Search template now!
Free crossword puzzle
Select the Crossword puzzle that you want to print and solve. After finishing you can easily check the Answers to see if you filled in the correct answers.