Drop Shipping Agreement
Isaiah Howard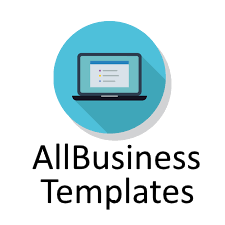 8/16/2017 5:34:10 AM
9/3/2021 12:16:37 PM
Are you approached to start drop shipping by an online store? Or are you a web shop owner, looking for new products to drop ship? In both cases, you need to work with a special Dropshipping Agreement that arranges liabilities, responsibilities between the Manufacturer/Supplier and Vendor/Webshop.

We have several Dropshipping Agreements available and can provide you with a professional Dropshipping Agreement from a Manufacturers' perspective, providing articles that make clear which Party is liable or responsible for what situation. Like with any cooperation and agreement, it's best to arrange roles and responsibilities before anything happens.


Drop Shipping Definitions:

Drop shipping:
Drop shipping is a retail fulfillment method in which the retailer does not keep goods in stock but instead directly transfers End Customer orders and shipment details to either the Supplier, another Retailer/Distributor/Wholesaler who then ships the goods directly to the End Customer. In the retail businesses, the majority of Vendors make their profit on the difference between the Wholesale and Retail price, but some Retailers earn an agreed percentage of the Sales in commission, paid by the Supplier to the Vendor.
End Customer: The End Customer is paying the Vendor for the Products, and is the receiver of those Products.

There are two kinds of Dropshipping agreements, each is written in favor of one of the Parties involved. Check out the following Drop Shipping Agreements here:


This Dropshipping Agreement is written in favor of the selling Website or Webshop Owner (Vendor/Retailer) and covers the following articles:
Term Cancellation

Vendor's Role
Supplier's Role

Billing Fees and Charges

Sales and Tax

Return policy

Problems with shipment to address

Responsibility

Claims
Right to Modify

Non-Payment

Severability

Confidential Information

Effectiveness

Products provided
Services provided
Download this Drop shipping agreement template if you are a Web site or Web shop Owner and want to make a Drop Ship Agreements with Supplier or Manufacturers. Or when you are interested in becoming a Retailer by doing drop shipping.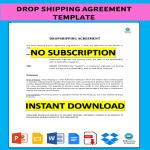 Always work with this Drop Shipping Agreement template when you start Drop shipping! Discuss with your Supplier and download this Dropship Agreement now!
This Drop Shipping Manufacturers Agreement is in favor of the Supplier and covers the following articles:
Manufacturer's Role

Problems with shipment to address

Responsibility
Claims
Product Descriptions
Services Descriptions
Billing Fees and Charges

Sales and Tax

Return policy
Non-Payment

Severability

Confidentiality
Etc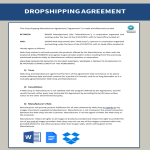 Are you about to start Dropshipping for a website or webshop? Do you need a Dropshipping Agreement from Manufacturer or Supplier perspective? Check out for more
Download this Drop Shipping Agreement template if you are the Manufacturer/Distributor who is approached by a Vendor, to set up a Drop Shipping Account and Agreement.
Using our Dropshipping Templates will save you time, cost and efforts and helps you to reach the next level of success in your Dropshipping business!