Top Drop Shipping Templates
Isaiah Howard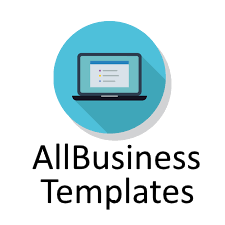 2/14/2017 12:00:59 PM
6/9/2021 6:47:23 AM
What is drop shipping?
Drop shipping is a retail fulfillment method in which the retailer does not keep goods in stock but instead directly transfers customer orders and shipment details to either the manufacturer, another retailer or a wholesaler who then ships the goods directly to the customer.
In the retail businesses, the majority of retailers make their profit on the difference between the wholesale and retail price, but some retailers earn an agreed percentage of the sales in commission, paid by the wholesaler to the retailer.
The biggest difference between drop shipping and the standard retail model is that the selling merchant doesn't stock or own any inventory. Instead, the merchant purchases inventory as needed from a third party, this can be a wholesaler or manufacturer, to fulfill orders. So:
No warehouse: inventory is at the supplier
Not owning a logistic process: supplier takes care of the logistics process.
A broad product offering: instantly able to offer a wide variety of products on your webshop.
Quick time to market: be able to instantly start selling drop shipping products.
Reduce investments: No need to invest 1000's of dollars before able to start selling.
There are many companies offering drop shipping solutions. It is important that you select a partner that fits your business model and geographical location.




Check out this Drop Shipping Planner for starters: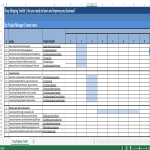 Do you want to start with Dropshipping but no idea how to start? Are you looking for useful planning to start Drop Shipping? Then this is a free planner for you


And this Drop Shipping Toolkit to enhance your drop shipping business: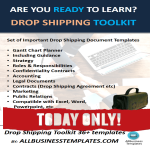 Are you a Drop Shipper looking for useful documents and contracts to improve your business?Check out this unique Drop Shipping Toolkit and enhance your buzz!
Aligning your strategy for drop shipping
Before even thinking about drop shipping you should verify whether drop shipping fits within your existing business strategy. What needs to be done to be able to implement it?
Activities: Key activities/processes need to be implemented?

Partners: Which drop shipping, partners?

Value: How to create (extra) customer value from drop shipping?

Customers: In which way drop shipping will influence customer experience?

Market: Do I want to broaden my current market or stick to a certain niche?

Channels: Which channels to use to enable drop shipping?

Costs & revenue: How drop shipping is going to create extra revenue and influence your costs?

Is it financially healthy to do drop shipping?
It is best to start brainstorming about it before initiating drop shipping so that you are clear if and in which way drop shipping is going add extra value to your business. The "A3 drop shipping strategy model" can help you to cover all the topics. This template is ready to be printed on A3 paper, so it is easy to use during a project brainstorming session. You can download this premium drop shipping strategy template here!
How to create revenue with drop shipping?
First of all, it is not that easy to generate revenue with drop shipping. When you run an online store that only offers drop shipped products, indeed you don't have to worry about any inventory or product fulfillment. All you have to do is sell the products, take orders and make a decent profit. Sound too good be true? Yes, it is. They're some things to keep in mind:

Are you getting the real wholesale price?
"No", by default you are not getting a real wholesale price. Often drop ship distributors charge extra fees and/or track these fees onto the quoted wholesale price. Is that reasonable? Yes, sometimes it is because the distributor is doing all of the work here and this will be certainly be reflected in your wholesale price. Make sure you know the prices and fees. For sure it helps when you compare multiple distributors to determine if the price given is fair. Negotiate with your suppliers and set up a WIN-WIN situation.

Shipping costs
When you are working with several distributors and a customer orders multiple products at one time, that is from multiple distributors, this will have a negative effect on the total shipping case. Why? This is caused by the fact the products will not be shipped within one shipment. Instead, multiple distributors are shipping from different warehouses to the customer. The result is that you may have to pass these extra shipping costs onto the consumer which reduces your price competitiveness. (Also don't forget that is can be confusing for the customer.)

Keeping track of the shipping logistic
Logistics can become a hell for you and your customer. The bullet above already gives you an answer why. A fully automated logistic solution with clear tracking can reduce this burden. Any human intervention is this process can cause extra administration costs. Keeping track of tracking will be very important because you have multiple shipments that maybe arrive at different moments.

Who is responsible for customer service (CS)?
Having as awesome CS is very important when you want your customers to trust you. But how this works when doing drop shipping. In the case of drop-shipping, your are not responsible for the fulfillment. So CS is partly out of your control.

Is it more or less work?
This really depends on how you set it up. For sure no more logistics or inventory but what if your drop ship warehouse or supplier is not reliable? What if they create a mess? Having clear and transparent contracts with them will be a top priority. Also, you need to automate as much as possible. Look for partners that do also.

So yes by adding drop shipping products you can increase revenue if you are able to market it to your consumers at a good price but you should keep close track of the extra costs and hassles. Ensure you make include drop shipping into your financial plan/overview.

Related free and premium drop shipping templates: