Authorization letter to claim
Authorization letters are letters that enable or rather, it will not be wrong to use the word, empower someone else to take actions on your behalf. The things associated with this power can be related to taking a decision, sign on documents, participate in some event, give a commitment, etc.
They are useful when you need to delegate a task or responsibility to someone, for example for collecting a document or package on your behalf. Especially if you will not be able to do it yourself. It can also be used to ask for permission to carry out certain responsibilities, or to inform another person that you will be replaced by someone else so, to do your work on your behalf.
This letter helps you to give someone the authority to go get you the driving license.
Writing an authorization letter for claiming documents is to be very specific and detailed.
Authorization letter writing tips:
When typing the letter it is similar to a third party authorization letter but has a difference of it only concerns matters with driving license. So it should not be formal as the other authorization letters out there. To get that letter that clearly conveys the message; you need to write in a particular way that includes the following.
Intonation
You need to have a friendly tone but still keep it official since you are probably writing to someone you already know.
Dates
Make sure you specify the correct date so that the receiver can be aware of the dates you have delegated your authorities while you are away.
Short and exact
Make sure you keep it short and have just plain words there that are unnecessary, the letter should be brief but informative enough so the one who is receiving the letter so that you understand it. Be straightforward to the point.
Informative
Be specific and informative. Like all letters, you need to give detailed information. In this specific authorization letter, you are required to give the full details of the individual(s) who are being given the authority too.
Now you are ready to download and edit that letter and delegate your duties to another individual on your behalf. Here you find some examples:
Authorization letter to claim documents
An authorization letter to collect a document is practically delegating to someone the responsibility of collecting the document, for example, passport or driver's license.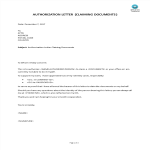 How to write an effective Authorization Letter for Claiming Documents? Download this Authorization Letter Claim Documents template now!
Authorization letter to claim package
This type of authorization letter is used to collect a package or parcel and is delegating the other person the responsibility of collecting the package.
How to write an effective Authorization Letter for Claiming A Package? Download this Authorization Letter for Claiming A Package template now!
We support you by providing this Authorization Letter to Collect Driving License template, which will save your time, cost and efforts.
Our Authorization Letter templates are intuitive, ready-to-use and structured in a smart way. Find the one that suits your need and download. Completing Authorization letter documents has never been simpler!
Check out our authorization letter sample and formats for an act on behalf, claiming, collect document, pick up & process documents and download them now: